---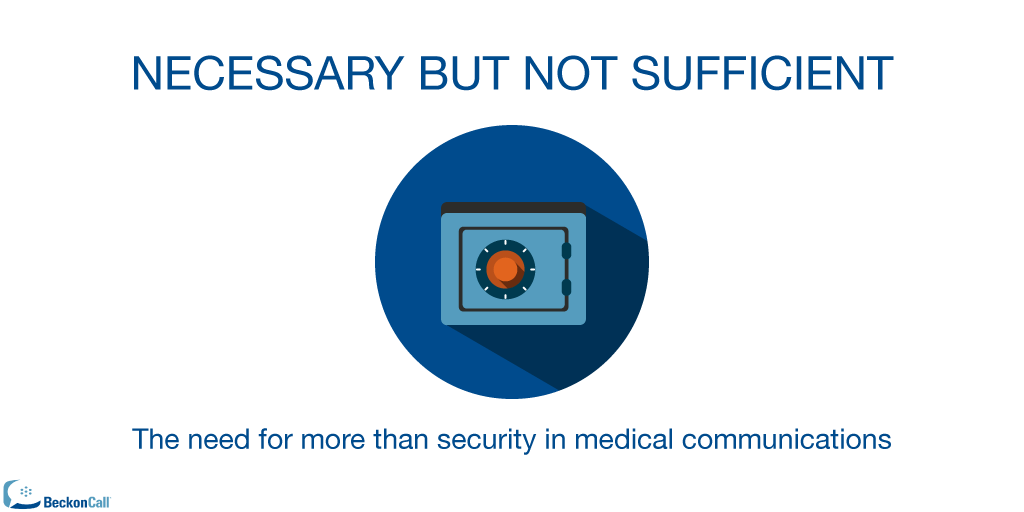 Remember when it seemed exciting to find a communications tool that touted HIPAA compliance at the top of its feature list? "Is it secure?" was one of the first questions asked when evaluating medical communication technology. Now, 20 years after the Kennedy-Kassebaum Act was first passed, compliance is generally assumed. Of course, HIPAA compliance is critically important. It's the law. But it now sits in the background, almost as part of the scenery, instead of prominently featuring in discussions about how a system works. It's like airbags in your car; they're legally mandated and you spend no more than a few seconds thinking about them when shopping for a new ride.
---
To understand why this is the case, let's review how HIPAA applies to medical communications*. The Act was put in place in 1996 to ensure that "individually identifiable health information" remains private and is only used for appropriate medical purposes. Within HIPAA, HHS created the Security Rule, which governs "a national set of security standards for protecting certain health information that is held or transferred in electronic form." As with any government regulation, the full language of the Security Rule and the rest of the Act is complex. However, the practical application of the law turns out to be remarkably simple in many instances.
In the case of email and text messages, HIPAA compliance can be met by "apply[ing] reasonable safeguards." These safeguards include double-checking the recipient's email address and limiting the amount of protected health information that is sent across open networks. While there are many more details, and a proper understanding of and compliance with the requirements is critical, the threshold for doing so can be surprisingly low. From a product standpoint, that means touting a product as a"HIPAA-compliant texting application" is not terribly impressive.
In short, HIPAA compliance is neither interesting nor enough. It is necessary, but not sufficient. We at BeckonCall are extremely proud of the medical communications tool we have developed. It is HIPAA compliant. However, so are the products developed by all of our competitors. With that in mind, we want to encourage physicians and practice managers looking at these services to go beyond the basics. Don't be distracted by the bare necessities like secure texting. The goal should be to find a tool that doesn't simply move information around but also removes barriers to an efficient practice.
One of the areas where this can be significant is getting messages to the correct provider. Even military grade encryption would be meaningless if the encoded message ended up in the hands of the incorrect end-user. Nurses collect information and interact with patients, and then send everything along to a physician. However, nurses still often have trouble locating the correct on-call provider. This leads to delays in communication and extended cycle times, which in turn have the potential to cause problems in acute situations. Unfortunately, similar problems can be found with traditional answering services, where inaccurate schedules and other issues cause messages to be sent to the wrong physician.
Even military grade encryption would be
meaningless if the encoded message
ended up in the hands of the incorrect end-user.
To have the most impact, a secure texting platform needs to take the guesswork out of contacting the right provider. It should take minimal effort to build an on-call schedule within the platform, freeing up practice managers' precious time for more important tasks. From there, it needs to be reliable enough that everyone involved can walk away and trust it will route calls correctly. This isn't always the case with medical answering services where human operators can make more mistakes. Similarly, the tool needs to be simple enough to make adjustments quickly and accurately after initial setup.
Using a drag-and-drop on-call scheduling platform provides benefits for almost every aspect of managing a clinical practice. As noted above, it can dramatically reduce call cycle times, because the communication link is direct between patient and provider. Individual patients will likely experience less frustration as a result. A practice can see benefits in aggregate, as well. If physicians and nurses need fewer total calls and less time to complete each call cycle, they have more bandwidth for more patients.
Add all of this up, and the potential for increased practice profitability is significant. Higher patient satisfaction, increased throughput for providers, and less busywork for managers can all be associated with an improved bottom line.
You won't be surprised to hear that the BeckonCall on-call scheduling platform accomplishes all of these things. Yes, there are many "secure-HIPAA compliant texting applications." However, we have differentiated our platform through the the "other" features that actually mean something in today's medical practices. BeckonCall automatically dispatches messages to the correct provider through schedule-based routing that is extraordinarily easy to set up and adjust. That simple addition opens up time and resources for everyone to do what they want – and need – to be doing to care for patients and build a profitable practice.
---
Questions? Contact us to see how we can help you improve your efficiency, throughput, and practice profitability.
*This is a high-level review, not a formal legal discussion of regulatory requirements. We are not giving advice or interpreting HIPAA. Questions? Ask a lawyer.
---